Check out our collaborations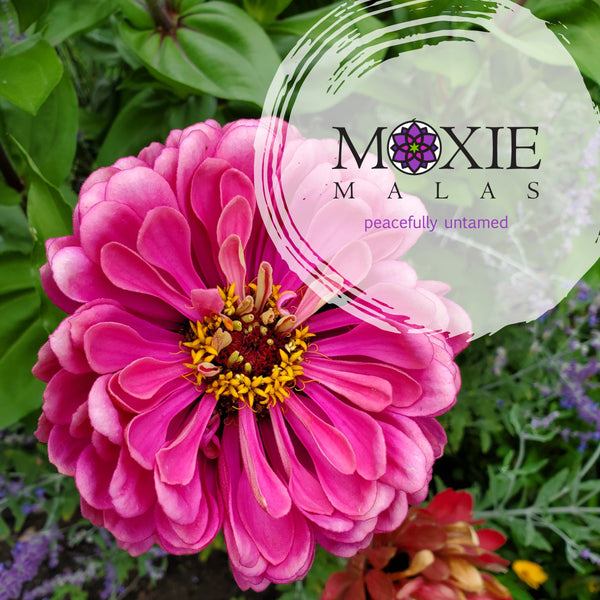 Symbolism of the Zinnia
 The Zinnia is a flower that can handle the hottest of sun, the driest of conditions, and still produce a beautiful colorful bloom. It is a symbol of beauty in the face of endurance and perseverance.
Kind Words
Just wanted you to know how well received your bracelets were at our studio! They sold super fast!

Kammi D.
I am in LOVE with these bracelets. I am empowered every time I wear them. I am slowly collecting them and wearing them ALL at the same time. Thank you!!

Sue C.
OMG can I stack any more on my arms and neck? I absolutely and positively love the bracelets and Malas that are made 
by Jessica! Not only are they beautiful but they have a message that connects with the inner soul that taps into the healing process.

Lana Anderson
I have been ordering Moxie Malas wholesale for my chiropractic office for almost a year now and my patients absolutely love them. Jessica puts so much love and intention into her work and it definitely shows in the end result. If you have anyone in your practice who uses essential oils, having her jewelry on your shelves is a game-changer for them. Thanks for everything you do Jessica!

Dr. Scott Walter
Love my smokey quartz mala, I feel grounded, empowered and in control every time I wear it. I love the drama it creates and the compliments I receive, thank you Jess for this beautiful and meaningful piece! <3

Tina Weiss
I've been loving my chakra bracelets and was excited to add an oil diffuser to my growing collection, and was looking for some gifts as well, but I was having a hard time deciding. No problem. I gave some direction on color preferences and desired objective with the intentions, and the results were GORGEOUS custom bracelets designed specifically for the recipients. The thoughtfulness Jessica puts into stones combinations that both look amazing and have meaning behind them makes her yoga jewelry all the more appealing. Thank you for working with me to create the perfect pieces!

Laura Johnson
From jewelry, to wisdom, empowerment, and FUN...Jessica at Moxie Malas is a true gem (no pun intended). Not to mention her work and art is incredible. The work she creates is both beautiful and extremely intentional. I love my necklaces and bracelets and wear them every week! We have also had the pleasure of hosting an event with her at our office and our community continues to rave! We look forward to continue working with Jessica and Moxie Malas.

Mel Krug, Inspire Life Chiropractic
I ordered 6 bracelets, 1 for myself and 5 for my sisters, my sister-in-law and my best friend as Christmas gifts this year. I chose a separate one for each amazing woman in my life and I could not be happier with the product!! They all came exactly as shown, packaged in individual boxes with logo on them, and a card inside the box describing the bracelet and its meaning. And they arrived within 1 week of ordering. I am so thrilled and excited to give these gifts to my sisters and so thankful Jessica runs such a fabulous business with the utmost integrity!

Emilee Ann